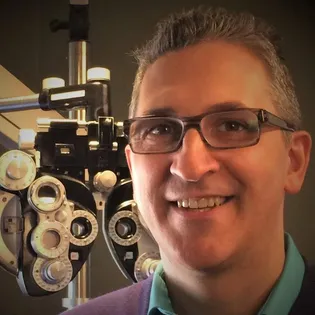 My story begins when I was two years old and got my first pair of glasses. The eye doctor diagnosed me with amblyopia or "lazy eye".
I also remember wearing an eye patch as a young boy. In and out of the eye doctor's office all my childhood, perhaps I was born to be a developmental optometrist.
Entering optometry school, I was not aware of how much the vision system affected learning. I too, believed the myth that 20/20 eyesight was perfect vision. Then I attended a special lecture my first year of school that really opened my eyes. The speaker talked about how optometrists can help change the direction of a child's life by retraining dysfunctional vision skills. With the vision roadblocks removed, a child's ability to learn could change from a lifetime of struggle to success.
Once I learned about vision therapy, I was hooked. I couldn't unlearn what had inspired me. I spent the last three years of my education working in a private practice to learn vision therapy and gained a lifelong mentor along the way. I went to work doing vision therapy right after graduation in 1999 from the Illinois College of Optometry. In 2003 I started the Learn to See Vision Clinic and became board certified by the College of Optometrists in Vision Development in 2007.
I am very proud of my patients. To complete a vision therapy program takes commitment and hard work. I love hearing patients' transforming stories as they begin to experience the change in their inner confidence and performance!
In 2006 I was called up to Active Duty in the Army Reserves. I examined soldiers with traumatic brain injury and attended a symposium on the concussion crisis with our returning vets. That experience was also the spark for me to apply functional optometry to concussion rehabilitation. Many concussion patients with lingering vision symptoms have been able to reclaim parts of their lives they had lost.
It is very rewarding work.